Jimmy Page
was the first of the icons in this movie to forge a new style positioning himself against what was happening musically around him.
After cutting his teeth playing
skiffle
and then blues in the early 1960's, Page spent years establishing himself as a
session guitarist
. His game changing musical statement,
Led Zeppelin
, was formed as a direct reaction against the direction he found his recording sessions taking. The music was becoming,
in his words
: "
too muzak
."
As a response to music he found increasingly emotionally tepid, Page turned up the heat. Guitar gearhounds will love Page's account of his first overdrive / sustainer. Check out the look of absolute delight on the faces of Edge and White watching Page:
Page founded an explosive troupe of musicians that redefined the term bombast for a whole new generation of musicians. The Blues shouts these Yardbirds had copped from the mouths of Mississippians were now breaking through
levees
into massive adolescent tantrums. (One of the best scenes in this film shows exactly where
that track
's drums were recorded. Amazing! Worth the price of admission alone.)
Zeppelin's blues-based whisper to scream aesthetic became the de facto rock and roll blueprint. See Aerosmith, Guns n' Roses, Jane's Addiction, etc., etc., etc. for details.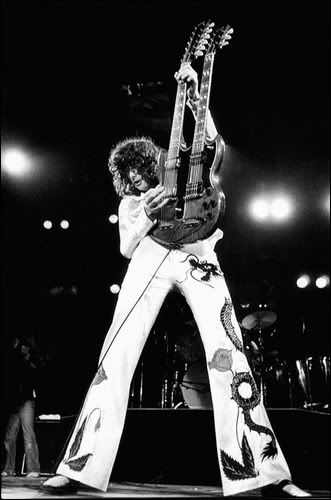 Check out how Stephen Davis
cartoon-ishly describes
the omnipotence of Zeppelin in America in the 1970's in the opening sentence of Watch You Bleed, his new Guns n' Roses biography:
And as Led Zeppelin floated over America in the seventies, its shadow darkened the country's heartland the deepest.
It's true! Zeppelin and their acolytes became so omnipresent, its very ubiquity destroyed its meaning. The music was massive, but it began to feel less emotionally direct... almost... like... Muzak? Dare I say it lost its
Edge
? Ohh.... sorry!
David Evans, according to It Might Get Loud, was about to bring it back.
Coming soon, in part 3 of this piece.
dcguitar.com
Advancing Guitar Lessons:
Washington, D.C.
Professional Musical Fun
For Beginners and Beyond